Veritas receives the recognition of the Gender Balance Scale 2022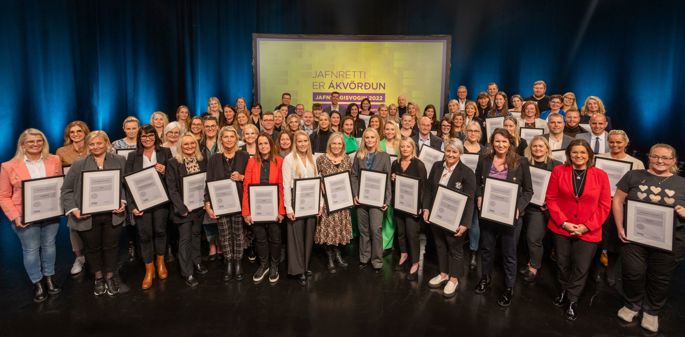 Veritas was recognized by the Gender Balance Scale in 2022 at the Gender Balance Scale Conference of the FKA (The Association of Women Business Leaders in Iceland) which was held on October 12. The title of the conference was "Equality is a decision". Eliza Reid, First Lady, introduced the winners of the Gender Balance Scale, which are the participants who have managed to equalize the gender ratio in the top management (executive board). The balance scale is a kinetic energy project run by FKA and, in addition to FKA, the Prime Minister's Office, Sjóvá, Deloitte, Pipar/TBWA and RÚV (the State Broadcasting Company) are responsible for it.
The Gender Balance Scale's goal of a 40/60 gender ratio in the top management layer was taken into account in the evaluation. A large part of the participants who have signed the Declaration of Intent of the Balance Scale have achieved good results in this area, and the number of participants who have achieved the goals has increased by 23 between years.
The Gender Balance Scale maintains a dashboard designed to keep track of statistical information on equality. In this way, restraint and good performance can be guaranteed. The balance scale's dashboard shows all the main public information about the position of managers in Icelandic business life and within the public sector, and it is made available in a simple and clear way.
Ester Birna Hansen, secretary at Veritas, accepted the award on behalf of Veritas.