Company
CEO's address
Sustainability goals
Strategic goal and operations
Veritas organizational chart
Dagmar Ýr Sigurjónsdóttir, marketing manager at Vistor
Corporate governance
External challenges and opportunities
Code of conduct
Corporate governance and Veritas board by-laws
Human Resources Policy
Boards of directors Veritas Group
Guðrúnarborg - board of directors
Data safety policy
Social responsibility policy and major issues
Colophon
The Icelandic data protection authority
Company
Corporate social responsibility and Veritas
Veritas' Social Responsibility Report is now published for the second time; hence we can say that in some way a cycle is now completed. Many lessons were learned last year, and we might just say that the longer our group of companies treads this path, the better we devise the many opportunities it offers. Last year, our main task was to compile a comprehensive panorama of our diverse environmental, managerial, and social responsibility projects, something we have never done previously, while this year our attention is rather focused on defining goals, establishing appropriate metrics, and finding ways to achieve results towards our goals. We also realised quite clearly that opportunities for improvement are very different from one subsidiary to the next since their operations are as varied as they are many. Nevertheless, the fact remains that by coordinating our efforts to conduct our sustainability projects and harnessing participation from staff in all our subsidiaries we will be more successful, more effective, and more efficient in reaching our goals.
CEO's address
Hrund Rudolfsdóttir, Veritas CEO
Veritas' group of companies comprises six subsidiaries, all operating in the pharmaceutical and health sector. In aggregate, we are the largest supplier within the Icelandic health sector, and we proudly define ourselves as a backstop and as an intrinsic part of the health care system in Iceland. This role implies maximum responsibility in terms of professionalism and dependability of our operations, and not least of our obligation regarding good corporate citizenship which inspires us to commit to our share of social responsibility.
2021 was a very particular year in many ways, as Covid considerably affected our operations, not only due to the challenges the pandemic put on our shoulders, such us procuring products required by Iceland's health care system and providing the best services possible to health care professionals struggling with the enormous task at hand, but also since we had to strive to warrant business continuity in face of potential covid infections among our staff. As for most companies around the globe, that turned out to be a very complex balance. These combined factors resulted in a very demanding and strenuous year which has on many an occasion demanded resourcefulness and energetic juggling of tasks.
Therefore, it has been quite challenging to cherish sustainability and social responsibility projects in such particular circumstances. However, we successfully faced those challenges which was in no small way made possible through the participation of many employees, as sustainability and social responsibility has been assigned as part of their daily responsibilities rather instead of assigning those tasks to individual staff/departments.
For 2022, it is our hope that a normalised business environment will be re-established. Hence, we set ourselves ambitious goals regarding our carbon footprint and also initiated several improvement projects which took form during managerial workshops.
Our goals are listed in detail below.
Strategic goal and operations
Veritas ehf. is privately owned and operates in six (6) locations in the Reykjavík Metropolitan Area, as well as small-scale operations in two locations in the Copenhagen Metropolitan Area. Our group of companies' headquarters are located at Hörgatún 2 in Garðabær. The total turnover of our group of companies was ISK 28.2 billion, and the number of full-time equivalent staff was 249 by end of 2021.
Veritas strategic goal is to specialise in the operation of companies in the health sector. Veritas is the parent company of the subsidiaries Vistor hf., Distica hf., Artasan ehf., MEDOR ehf., and Stoð ehf. Veritas is the bedrock of our group of companies, and services our subsidiaries to enable them to focus on their core businesses. This is how we support the Icelandic health care system to increase the quality of life of our fellow citizens.
Our group of companies set themselves the goal of growing and diversifying, and has been systematically working on it since 2015, both by means of organic growth and expansion of operations, time and again within the defined framework: the health and pharmaceutical sectors.
Our set of goals comprises:
Growth in earnings and return on capital
Shares in the current marketplaces, as well as warranting new income sources
Customer satisfaction
Organization and increased production with digital solutions
Quality of our internal processes and business practices
Corporate governance and staff satisfaction
We plan to set forth our new quinquennial growth policy by this year's end.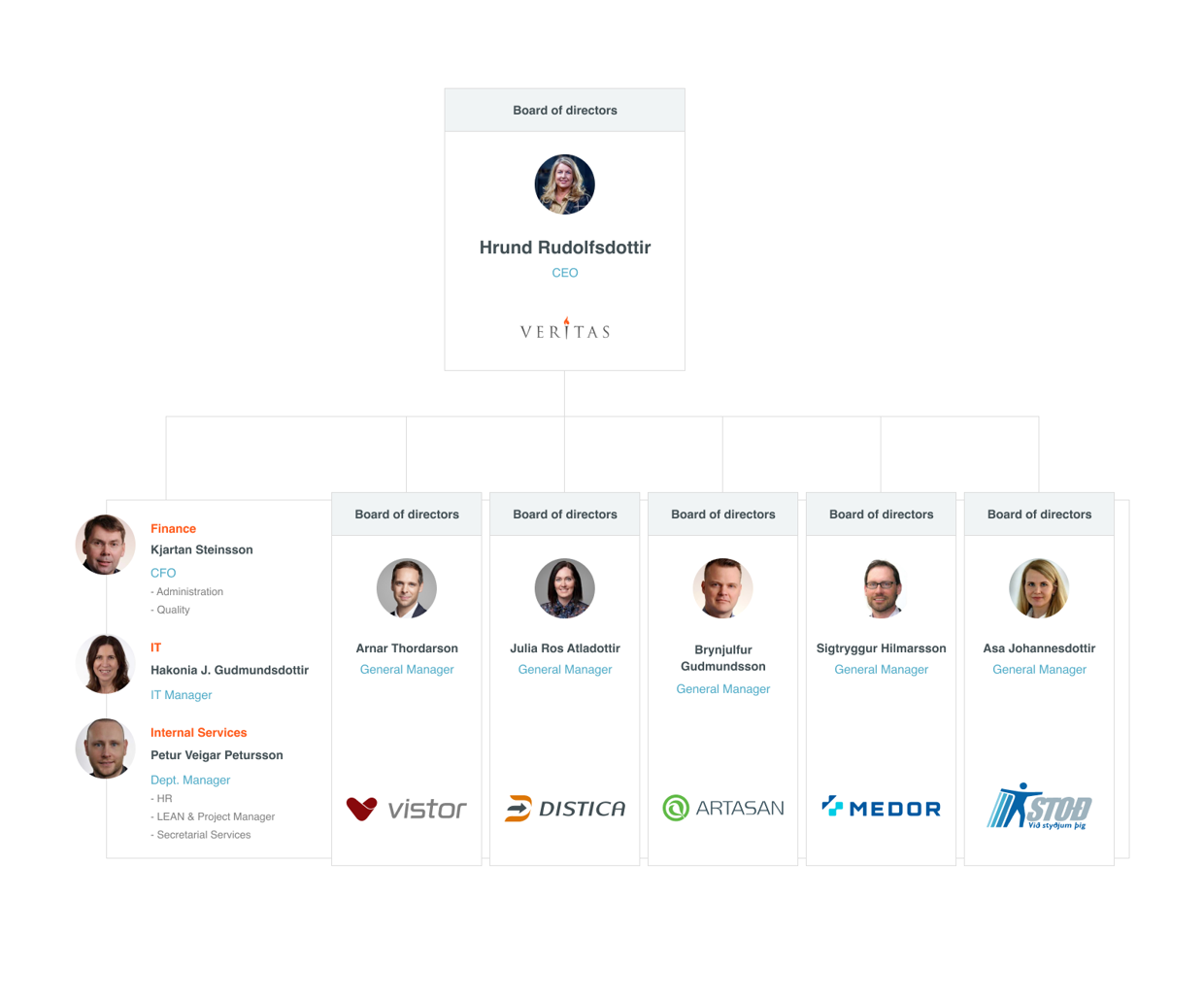 Veritas organizational chart
Dagmar Ýr Sigurjónsdóttir, marketing manager at Vistor
Corporate governance
Gagnsæi, heiðarleiki og siðferði.
Veritas gives extra weight to transparency, integrity, and ethical practices when doing business. We also uphold the values adopted for our group of companies as a whole: reliability, candour, and progress. Veritas adheres to the Corporate Governance Guidelines published, inter alia, by The Icelandic Chamber of Commerce. Those guidelines include recommendations to adopt standards which exceed legal requirements aiming at strengthen our infrastructure and dependability.

Please click on the link below to review the Code of Conduct, Human Resources Policy, board by-laws, Corporate Governance Policy, and Data Safety Policy adopted by Veritas and subsidiaries.
External challenges and opportunities
The operations of our group of companies are contingent on a variety of circumstances. The most substantial influencing factors are as follows:
Fluctuations in the exchange rate of the Icelandic króna (ISK) significantly impact our gross earnings, as the medicinal products we import and distribute are priced in foreign currencies. Several contracts entered into by and between our group of companies and government organisations are also anchored to currency exchange rates in one way or another. In addition to that, procurement by our group of companies almost completely involves products quoted in foreign currencies. The same applies to several service agreements between our subsidiaries and international suppliers. Therefore, any steep fluctuations in króna's exchange rates may have a diverse impact on our businesses and operations.

To a great degree, our group of companies' operations qualify as part of the Icelandic health care system. For this reason, our operations are subjected to the applicable laws, regulations, and vigilance by regulatory authorities in many ways. Hence, our group of companies is dependent on political and administrative decision-making which are often unforeseeable, with scarce opportunities to present any objections or counter opinions.
Code of conduct
The core business of our group of companies is the import and marketing of medicinal products, which demand a robust and thorough modus operandi. Veritas Code of Conduct, which also applies to Veritas subsidiaries, were adopted in 2018, and include specific standards for interactions with health care professionals. We also operate pursuant an international code of conduct and relationships between pharmaceutical companies and health care professionals (The EFPIA Code). The objective of those standards is to ensure a professional modus operandi in the marketing of medicinal products, and that all decisions made by public officials are sound and indubitable. The EFPIA Code was adopted as required by Directive 2001/83/EC of the European Parliament and of the Council, and its amendments.
The Code of Ethics adopted by Veritas and its subsidiaries also regulate interactions with all parties other than health care professionals.
Corporate governance and Veritas board by-laws
Veritas management focus on adopting best practices in corporate governance and having transparency, integrity, and high ethical standards as beacons. Our management team also upholds the values adopted for our group of companies as a whole: reliability, candour, and progress. In order to boost corporate governance quality, Veritas' management endeavours to adhere to the Corporate Governance Guidelines approved, among others, by The Icelandic Chamber of Commerce, either strictly following those guidelines or clarifying any deviations in this corporate governance statement.
Every year, Veritas' management publishes a corporate governance statement as part of our annual report. Veritas' Board of Directors takes pains to make sure that the organisation and operations are in good shape at all times in order to safeguard the interests of all shareholders. The board retains ultimate power and is responsible for the governance of Veritas' business interests and matters between shareholders meetings. The board of directors, in coordination with Veritas' CEO, takes the lead in the strategic planning and definition of business goals for the company. As the entity ultimately responsible for corporate governance, the board focuses on keeping a panoramic view of the Veritas operations, providing the executive board with reasonable support and supervision.
The corporate governance statement describes the board composition and practices during respective fiscal year. Click here to review our corporate governance statement.
Veritas has a board of directors for each of its subsidiaries. When appointing members to the board of each subsidiary, we take pains to select a mix of both external directors with expertise and experience in the respective fields, and in-house managers.
Our boards of directors consist of 3 to 4 members, and we take pains to make sure that gender equality is served within each individual board, in compliance with the Corporate Governance Guidelines. Each board adopts their own by-laws and conducts periodical assessments of their own corporate governance practices. The members of the board disclose, as a minimum at a yearly basis, any potential conflicts of interest. The periodicity of board meetings varies for each subsidiary. Board meetings take place as often as needed, with a minimum of four (4) meetings per year. No corporate governance committees are appointed within our group of companies.
Each board of directors sets their own regularly updated business plans, observing a balance between financial and non-financial matters (such as equality, social responsibility, and environment).
In the beginning of 2022, a personal incident emerged concerning Veritas' owner and member of the board, Hreggviður Jónsson, resulting in his resignation from the boards of both the parent company and its subsidiaries. In the wake of that occurrence, the Veritas board has reviewed its operational procedures in place aiming at promoting a successful closure for cases as such one. Said incident took place prior to the period covered in this report, however, as it was considered significant, it is fair to mention it here. The course of corrective measures adopted will be further reported in the next annual report.
The executive board is responsible for the decision marking regarding economic, environmental, and social responsibility aspects. The executive board has entrusted Veritas Environment Committee to conduct our main environmental projects, Veritas Human Resources Manager to cover the social responsibility agenda, and Veritas CEO to respond for corporate governance practices.
Below is a summary of all members of boards within our group of companies. Veritas Chair of the Board is also company's largest shareholder.
Shareholders:
Veritas is owned by three (3) shareholders: Stormtré, Trausttak, and Stjánkur:
Stormtré ehf, 90%, owned by Hreggvidur Jónsson and Jóhann Jónsson, member of the board of Distica
Trausttak ehf. – 6%
Stjánkur ehf. – 4%, owned by Hrund Rudolfsdóttir, Veritas CEO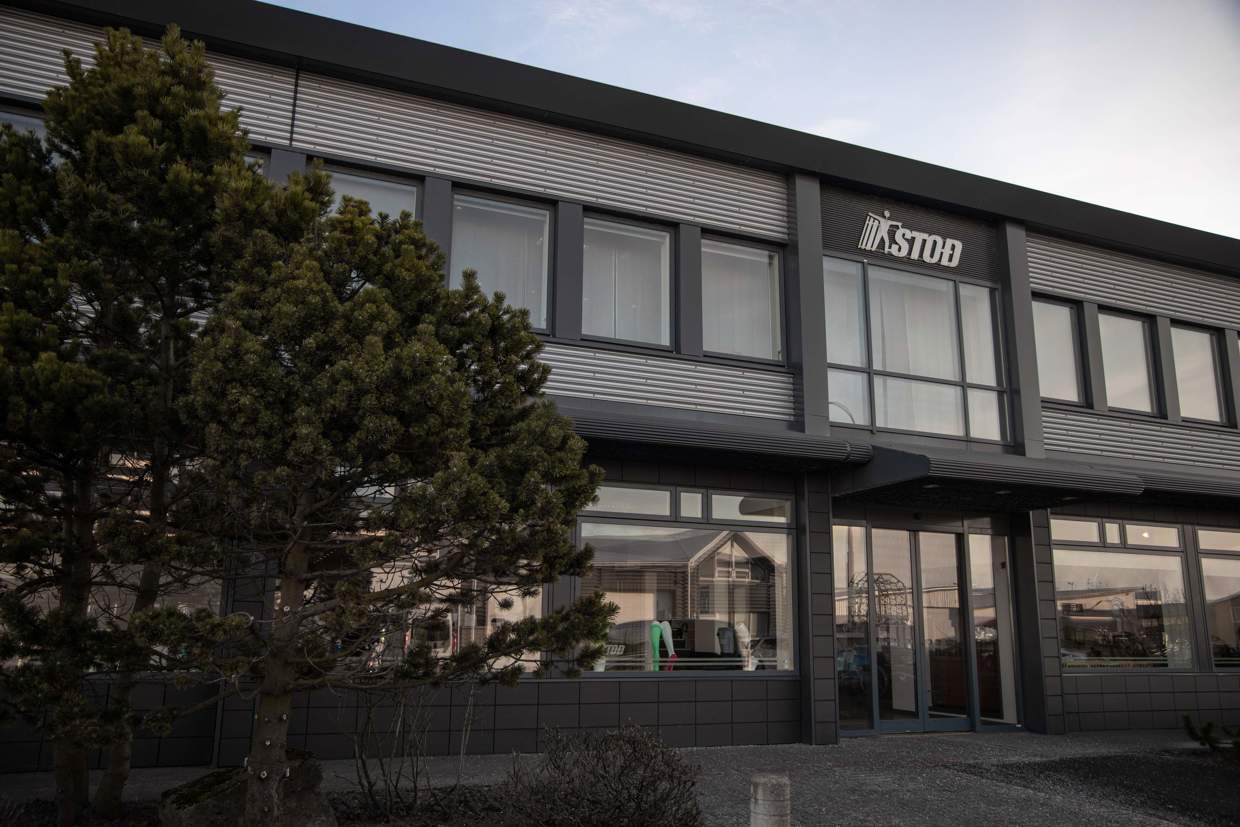 Stoð in Hafnarfjordur, Iceland
The latest addition to the Veritas group
Human resources policy
Veritas operates in compliance with the provisions contained in current collective agreements signed by and between The Confederation of Icelandic Enterprise (SA) and respective labour unions. The majority among Veritas group of companies' staff (about 70%) are members of The Store and Office Workers' Union (VR), while other employees are members of professional labour unions such as The Icelandic Pharmaceutical Society (LfÍ), The Association of Chartered Engineers in Iceland (VFÍ), The Icelandic Nurses' Association (FÍH), The Union of Natural Scientists in Iceland (FÍN), and The Union of Icelandic Electrical Workers (Rafís), to mention but a few. Some employees have opted out of labour union membership.
Veritas Human Resources Policy's main objectives are:
To always optimize employee satisfaction aiming at boosting team unity and our business output
To pay competitive wages based on what employees are paid for comparable jobs in the Icelandic marketplace
· To uphold equality in words and deeds
· To promote a healthy work-life balance
· To ensure that the flow of information fulfil the staff's and company's needs
· To ensure that employees periodically receive candid and constructive feedback regarding their performance
· To thoroughly fulfil the needs and requirements set forth by our suppliers and the legal framework applicable to our business operations
· To ensure work development by providing continuous education to the staff
· To ensure that the staff endeavour to boost team unity and share their expertise and experience to the best benefit of their colleagues and themselves
Click here to read the unabridged Veritas Human Resources Policy.
Data safety policy
Veritas and its subsidiaries provide services to approximately 350 international suppliers, many which sometimes are fierce competitors between themselves, and hence have their own very stringent requirements regarding confidentiality and data protection. As a parent company to its subsidiaries, Veritas is responsible for the management of IT systems for our entire group of companies. For this reason, Veritas adopted and works pursuant its own Data Safety Policy which is based on and certified according to ISO/IEC 27001 standards.
Veritas holds the certificate No. IS 607526 issued by BSI (The British Standards Institution) vouching for the fact that our company operates a data protection control system which meets the ISO/IEC 27001:2013 standards. Veritas and its subsidiaries adhere a data safety policy based on ISO/IEC 27002 Code of Practice for Information Security Controls.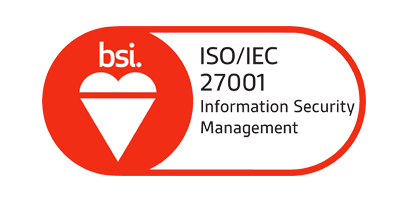 Social responsibility policy and major issues
In 2021, Veritas' main focus was on developing a better control board to assess sustainability projects, definition of goals, and evaluation of indicators. Prioritisation and assessment of acceptable long-term performance were also focal points. Veritas strives for having a positive impact as far as environment protection, security, equality, cultivation of the Icelandic language, support to employees of foreign origin and individuals facing difficulties in the labour market are concerned. Employees' good health, promotion of physical activities and of the importance of a healthy nutrition are human resources priorities. Gender equality, labour safety, diversity, and prevention of bullying and harassment are also prioritised. A purposeful decision was made to involve a broad group of employees in that set of issues.
"Our decision to voluntarily publish a social responsibility and sustainability report covering our group of companies as a hole, even if it is not a legal or regulatory requirement, turned out to be a good call. Thereby, the themes covered in the report were brought to the order of the day, enjoying more visibility, and becoming part of our day-to-day operations. It is of utmost importance to our companies to engage in this task as a unified group, as it allows us to gain the necessary momentum to reach our goals. Equally important is to establish a platform to harness the participation of staff who have a genuine interest for themes concerning sustainability and social responsibility. In 2021, environmental questions were likely the ones we dedicated most effort. Several among our most crucial operational procedures apply to our whole group of companies, hence are of utmost interest from the environmental perspective."
"Our greatest success in terms of sustainability in 2021 was a more in-deep approach to environmental questions, both as far as definition of goals and indications and mapping potential areas for improvement are concerned. It is fair to say that the deeper we get, the better we realise how fantastic the opportunities are, but also how little we have developed a holistic sustainability way of thinking, not only internally within our corporation but also in our society as a whole".
"Sustainability is now an integral part our business policies: sustainability indicators are now part of the standard KPIs our executive management reviews on a monthly basis, as well as part of performance assessement and incentive systems, all of which are steps that reinforce the process to make sure that a sustainable way of thinking become part of our DNA", as stated by Hrund, Veritas' CEO.
Colophon
This is the second edition of Veritas Social Responsibility Report and covers the fiscal year 2021. This report will be published annually. Key performance indicators for 2019 and 2020 are also exhibited to some extent as 2021 was an atypical year for several reasons. This report was compiled pursuant the Global Reporting Initiative (GRI) Standards: Core. Staff from all divisions of our group of companies took part in this report's compilation. All data included in this report originates from Veritas IT systems, and reflects the facts known to us at the time this report was compiled. The Environment Committee has compiled data on environmental issues and calculated our group of companies' carbon footprint. Part of the data originates from interviews taken with key employees for whom sustainability is an extensive part of their work.
Veritas is reported as a group of companies, and all figures presented in this report refer to the combined performance of Veritas and its subsidiaries, i.e., individual indicators are extrapolated. In specific cases, we decided to also consider Veritas sister company Hávarðsstaðir, which owns and keeps a large portion of the real state Veritas has at their disposal. Any such cases are expressly mentioned, whenever applicable.
Contact persons for any information regarding this report and its contents are Hrund Rudolfsdóttir, Pétur Veigar Pétursson, Kjartan Steinsson, and Dagmar Ýr Sigurjónsdóttir. Podium ehf. provided guidance and conducted a quality review of this report.
The Icelandic data protection authority
Veritas has adopted a policy and guidelines for the processing of personal data to ensure compliance with The Act No. 90/2018 (Act on the Protection and Processing of Personal Data). Veritas provides their staff and customers trustworthy and reliable services by:
Striving to ensure that any and all personal data Veritas collects and stores are processed in accordance with current laws and regulations on the protection of personal data, i.e. The Icelandic Act No. 90/2018 (Act on the Protection and Processing of Personal Data)
Optimize safety and accuracy of personal data stored at Veritas and subsidiaries.
Employees and candidates are informed about which of their personal data are retained, how they are stored, who have access to them, and when they will be erased
We make sure that our response to safety breaches comply with applicable laws and regulations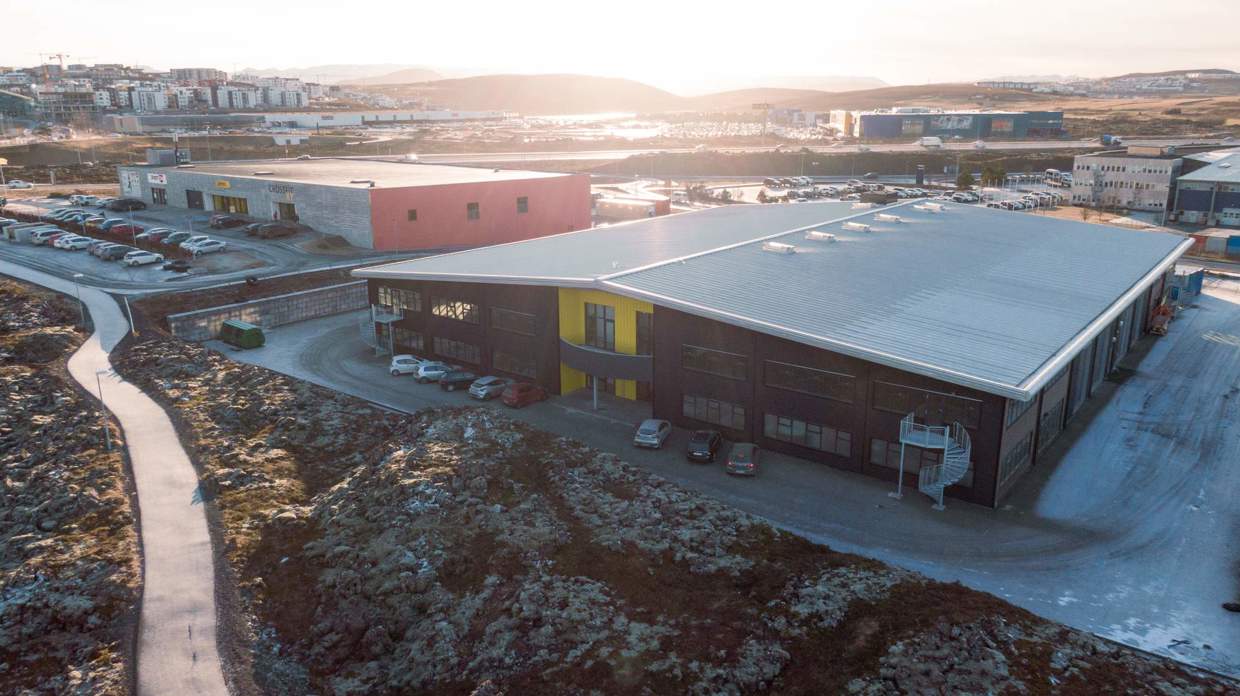 Distica warehouse at Miðhraun in Hafnafjörður, Iceland